Olaf Hajek was born in North Germany and now resides in his homeland, London and
New York. His elegant, figurative, colourful, textural work holds a strong sense of character and fine art sensibility.
Despite the diversity of his clientele, Hajek makes no aesthetic compromises. His characteristic style of "magic realism" is what makes his work appealing to a broad audience and range of clients.
He exhibits regularly in galleries all over the world, and appears ubiquitously in the awards: American Illustration, Images, Communication Arts, D&AD. His client list includes: Architectural Digest, Bloomberg Inc., Financial Times, Flaunt, Food Illustrated, Forbes, Fortune, Gourmet, GQ, LA Times, The New Yorker, Pirelli, VW, Rolling Stone.
"Flowerhead" is Olaf Hajek's first monograph. It presents an extensive collection of his commercial work as well as personal art that he created exclusively for the book.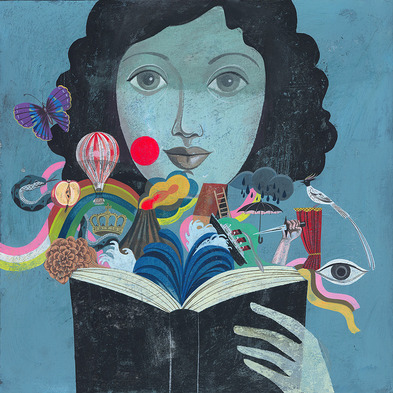 Who am I, where am I coming from?
I am a freelance illustrator and painter, born in the north of Germany but now living in
Berlin since 15 years. Already as a kid I loved drawing and visited oil paint and Body and Portrait classes as a young boy next to my school. After my high school I studied graphic design, but was sure not to become an art director sitting in front of a computer. My passion was to paint, so I moved to Amsterdam after my diploma at the FH Düsseldorf, and started my career as an illustrator.
What is your style and which are your influences?
Victorian, turn-of-the-century and Surrealist aesthetics are strong influences, so are religious and folk art, African Barber Shop signs, or Art Brut. I love to combine all these influences with a sophisticated attitude and create my own aesthetics.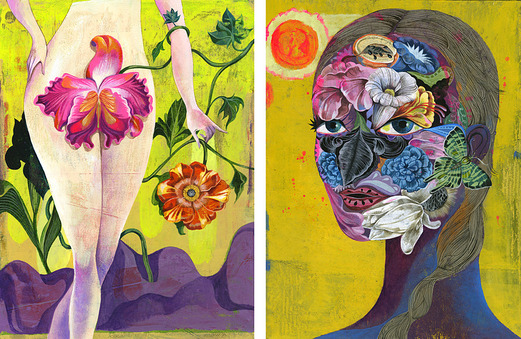 Do I prefer to be an illustrator or a painter?
I love to be an illustrator, I love the diversity of the assignments I get worldwide. It's a pleasure to work for so many different themes and clients but stay in my own style and ideas. On the other hand, I try to develop my own personal work and exhibit in group shows and solo shows in galleries more and more. The nice effect is that my personal
work is influencing my commercial work.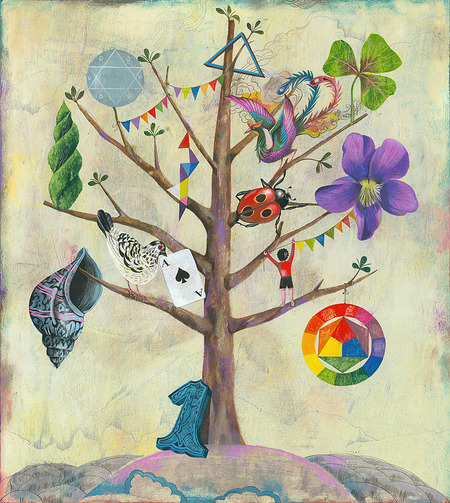 Gestalten Publishers published my first monograph. Is that a big step for me?
It's so funny.. I was so excited about the fact to get my own monograph and It was a big step in my career. But now I am looking for the next steps. I think it is wonderful to have
a book which contains commercial and personal work of the last 4 years. This was a very creative time and I created some amazing work, which now can be seen in the book. I just had a big exhibition at Gallery Johanssen in Berlin which shows some of the work which is included in the book and some completely now paintings. But the next step now will be to work for a gallery show in Cape Town, which hopefully will be open next spring.. this
will be an exiting next step.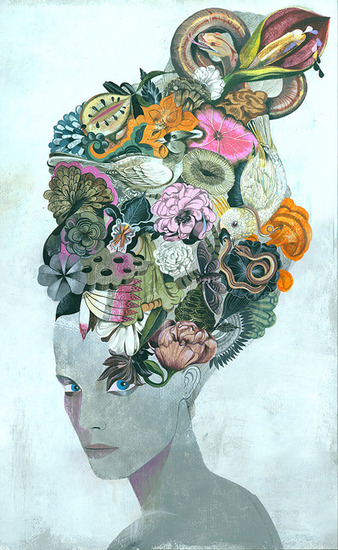 What special techniques are involved when creating my work?
I am painting with acrylic on cardboard, wood or paper, but use a cutter for cutting out elements or work on the texture. I use pencils and sellotape and of course I have to
use my scanner to scan my illustrations and send to the client.

When and where do I get the best inspiration?I am definitely a morning person. I brew my coffee and then take my Dutch Gazelle bike, which is my personal Rolls Royce to get to my studio in Berlin Mitte. I like to be surrounded by personal stuff and books. My apartment and my studio are full of books, catalogues, magazines and stuff from my travel to Africa or my best finds from my favourite flea markets in New York. I love the gallery scene in Berlin and try to see as much art as possible, but I need a lot of light as well, so sometimes Berlin is a complicated spot for me. I try to leave Berlin in winter and escape to the light and soul of places like Cape Town or Miami.


Which is one of the most inspirational places for me?
I am travelling a lot of times to New York and the first thing I always try to visit is the American Folk Art Museum. This modern building has a great neighbour, the MOMA, and is filled with all the things I love.. the simple but impressive language of Bill Taylor, the amazing room dedicated to Henry Darger, whose work is a big inspiration or the quilts and sculpture of contemporary self taught artists.. These visits always make me happy and let me get my sketch book out!!!!
Where do I see myself in 5-10 years?
I have a long career as an Illustrator now and worked for amazing clients worldwide, but I hope to get more into the art world and hope that my work can stand on its own as fine art. I really try to achieve that my work dont need the context of a magazine or publication. It would be great if illustration is gaining more and more importance in the world of fine art.
So working with galleries is getting more important.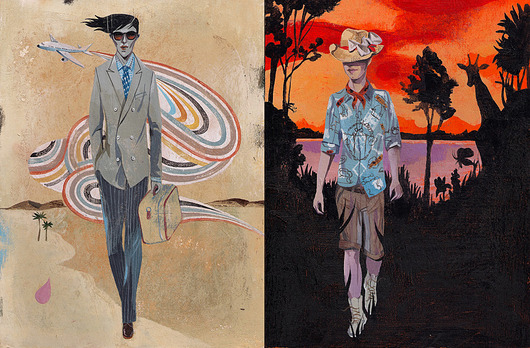 Am I influenced by fashion?
I love fashion and I love to work for fashion clients, but have my own idea about fashion illustration. I really love to illustrate more the inspiration of the fashion than just the dress
or accessories. My flowerheads have this idea of fashion, women with hair which looks
like a cornucopia full of beauty and flowers and life. The idea of another world behind the dress, the make up or the attitude.